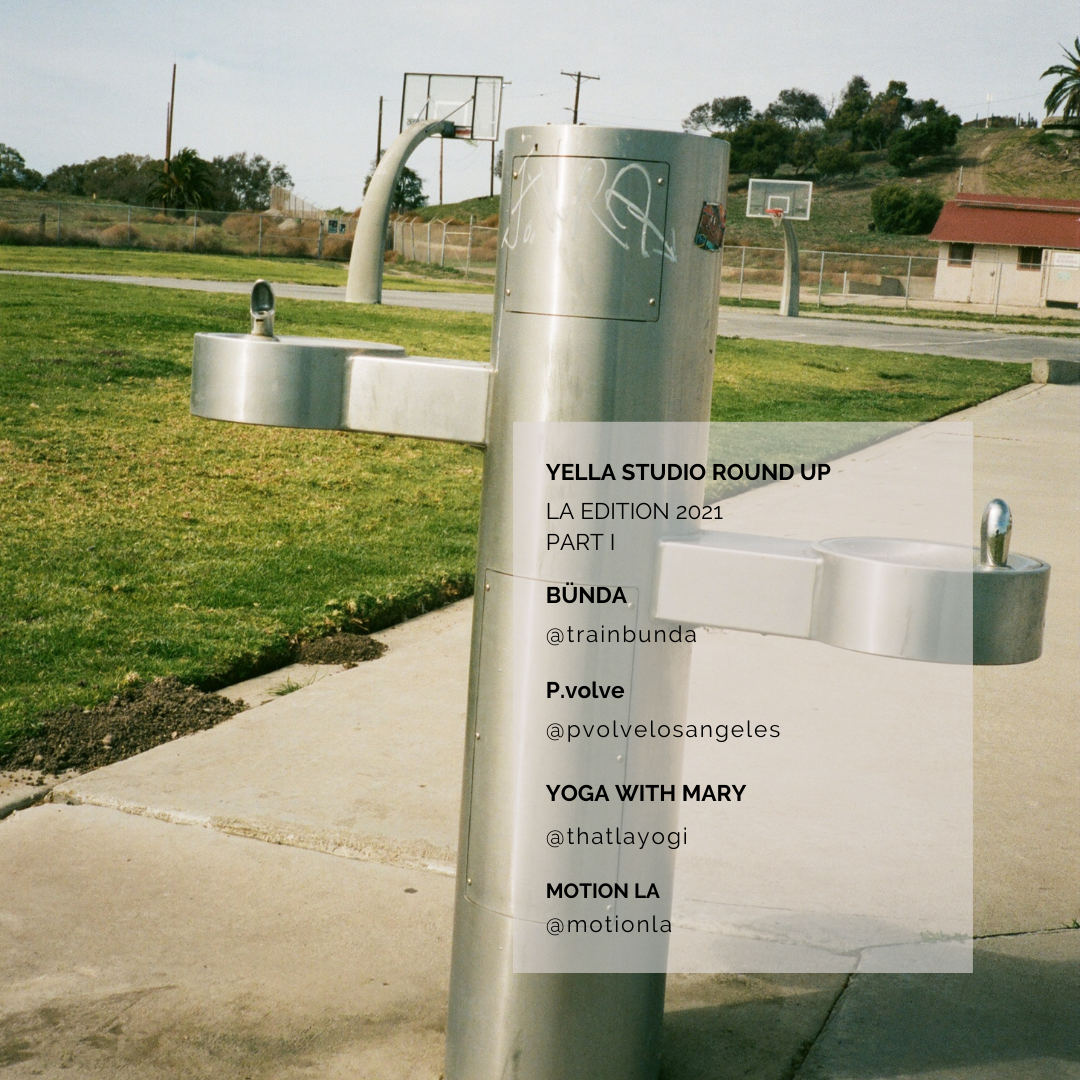 The Best Workout Studios in Los Angeles
One of my favorite pastimes is exploring different workout methods to challenge the way my body moves. With things opening up in LA, I decided to check out some studios and do a little round-up of my favorite studios/classes thus far.
One of my favorite pastimes is exploring different workout methods to challenge the way my body moves. With things opening up in LA, I decided to check out some studios and do a little round-up of my favorite studios/classes thus far.

Each studio or class has been attended at least once by me
(Daniella, YELLA's founder).
They are chosen based on the following factors:
experience of instructors/trainers
effectiveness of workout
community/atmosphere
new form or different form of movement

While any form of movement is good, I'm also a big proponent of challenging both the mind & body. Find what works for you and of course, make sure you are having fun.
Location: 8231 W 3rd St, CA 90048
@trainbunda | Daily Classes| $18.00/rooftop class
The Concept:
"Building functional strength. Because the glutes stabilize the lower back and knee joints, strengthening them decreases the risk of injury. The Bünda program has been backed by years of research. The daily workout classes are programmed by master level trainers."
(Source: https://www.trainbunda.com/why-bunda-works/)
What We Like: 
Workout studios in LA can come across as very intimidating. While I enjoy the occasional HIIT style workout with the loud music and flashing lights, it's not something I would choose to do everyday.
This is where BUNDA comes in. I'm specifically reviewing their outdoor rooftop workout concept. These are effective workouts that focus on the glutes but actually work the whole body by focusing on splits (upper body/lower body focus).
There is no ego - just experienced trainers & hard working class participants looking to get stronger.
I am picky about where I strength train and if you're looking for a studio setting but with a workout methodology that makes sense (vs. just burpees) then this is the place to go.
For a full experience, I'll be checking out their in-studio experience next.
@pvolvelosangeles | Daily Classes| $36.00/class
The Concept 
"We combine dynamic joint movement with patented resistance-based equipment to activate and strengthen each and every muscle.
Our workouts are multi-planer and multi-dimensional, meaning they get you to move forward and backward, right to left, up and down and rotationally at every angle to support all the ways you move throughout the day. And in the process, your joints will feel more open, your muscles more engaged and your body more energized."
Source: https://www.pvolve.com/pages/method
What We Like: 
Another studio experience that is intentional about its method. At first, the equipment might come across as intimidating, but go once or twice and you'll get the hang of it.
Each class is very different and you'll find yourself meeting new muscles that you've never come across before. One of things I love about these classes is the focus on balance (this is something so greatly overlooked).
The classes go at a pace that anybody can keep up with and the instructors do an amazing job of setting the right tone (i.e patient yet encouraging).
Choose to work in the studio or have your mat set-up on the patio.
@thatlayogi | Sat. @ 9:00 | $25.00/class
The Concept: 
Mary believes that Power Yoga should be a reflection of its title, and be utilized to empower and serve the student physically, mentally, and emotionally, while being accessible to all levels, and abilities.
 Through carefully crafted and unique individualized sequencing, practices are customized to support each student in the discovery of new mental/physical edges, and internal stillness, while simultaneously sculpting a leaner, stronger, more flexible body."
Source: https://www.layogi.com/about
What We Like: 
Yoga is mostly a mental game. Most of the time I'm always wondering when class will be over.
Yoga is personal preference and It's rare to find a class & teacher that creates a series of sequences that flow seamlessly into another. It's also hard to find a teacher that pushes you but also makes you feel calm.
This is a class for all abilities - make it as challenging as you need to. It's a great way to set the tone for the weekend. The big bonus is that it takes places on the rooftop of
The Roosevelt Hotel which means you're surrounded by incredible views of LA.
@motionla | Wed @ 6:15 & Sun @ 10:15 | $20.00/class

The Concept:
We are a community of entrepreneurs that get together through the foundation of fitness and meet weekly for workouts and events ranging from HIIT training, strength training, weightlifting and yoga.
We bring together these entrepreneurs and connect them through their passion for fitness and health and cultivate an environment that promotes new ideas, collaboration as well as personal and professional growth."
Source: https://motion-la.com/pages/home
What We Like: 
This class kind of feels like the adult version of summer camp or soccer practice - but in the very best way possible.
The workout is fun, uplifting and will get you to move your body in different ways (think ladders exercises, bear crawls, lots of planks). Bonus points for the music.
The instructors are certified trainers and they will keep you motivated to move, move, move.
The community aspect of it is a wonderful addition and so needed. What better way to grow your mind than by challenging your body to move.